OZONE ENDURO V2 2020, OZONE TORQUE V1 2020, OZONE HARNESS
Freestyle Ozone package
You want to take your kitesurfing to the next level, jump higher, land harder and kite faster?
The Ozone Enduro package will take you there !
OZONE CONTACT CONTROL SYSTEM  + OZONE ENDURO V2 KITESURFING KITE + AXIS VANGUARD BOARD + OZONE HARNESS
KITE OZONE ENDURO V2
WE LOVE THE ENDURO, IT HAS TO BE THE ONE OF THE BEST GO-TO KITES ON THE MARKET AND IT JUST GOT BETTER! OVER THE LAST TWO SEASONS WE HAVE REFINED THE DESIGN INTO A SENSATIONAL ALL-ROUND PACKAGE. THE VERSATILITY IS SOMETHING BEST EXPERIENCED FOR YOURSELF – ANY STYLE, ANY CONDITIONS, WITH THE ENDURO V2 YOU WILL BE RIPPING!
The Enduro V2 is a mid aspect ratio kite combined with our market leading three stage Variable Bridle Geometry offering outstanding performance across a wide range of disciplines – freeriding, freestyle and wave riding. It incorporates an Open-C shape, semi swept Leading Edge and square wing-tip design, which results in a large de-power range, amazing progressive handling, boost for jumping and drift in the waves.
The V2 design features our new strut construction that provides enhanced support to the canopy and improves stability at low angles of attack. The Leading Edge is now tapered at the tip, which helps to reduce tip bounce. Together, the result is a much smoother ride and a more solid bar feeling in strong and gusty conditions.
FREERIDE: For Freeriders the Enduro excels no matter what board you choose to ride. Whether on a twin tip, surfboard or foil board the smooth power delivery, refined predictable handling and excellent de-power allows you to relax and enjoy the ride.
WAVE RIDING: In the Waves, the handling, de-power and drift opens up a world of opportunity. For surf freestyle the progressive handling with smooth lift make spinning and air tricks easy to learn and land.
The Enduro is not as dedicated to waves as the Reo, but it still delivers solid wave riding performance.FREESTYLE: The Enduro makes freestyle progress fun and easy from your first unhooked moves, kite loops and right up to advanced unhooked riding. The Enduro delivers accessible pop and drop making learning technical moves and handle passes easier, without needing to be as aggressive in your riding compared with a C-kite such as the C4.The Enduro features multiple back line adjustments to customize steering pressure and turn speed. Combined with our Variable Bridle Geometry, this allows you to ultimately customize the feeling and performance of your kite.
VARIABLE BRIDLE GEOMETRY
Quick and easy to change with no extra lines to add or remove.
FREERIDE: The Freeride setting offers the ideal balance in performance and feeling for all-round riding in any conditions. The Freeride setting is the middle knot on the VBG Pigtails (factory setting).
WAVE: The Wave setting decreases the bar pressure, and increases steering reactivity in all states of power and de-power – it is easier to turn the kite while de-powered when riding a wave. The Wave setting is the upper knot on the VBG Pigtails.
FREESTYLE: The Freestyle setting increases sheeting bar pressure, increases power in the kite loop and increases pop for unhooked tricks. If you prefer a heavier and direct feel this could be the setting for you. The Freestyle setting is the lower knot on the VBG Pigtails.
BOARD OZONE TORQUE
THE TORQUE IS ALL ABOUT RIDING BOLD, IT RAISES THE BAR FOR SOLID EDGING, EASE OF LOADING, POWER RETENTION AND THE ALL IMPORTANT POP FACTOR.
For aggressive freestyle it delivers explosive performance with great flex and hold to stick your landings. Without compromising the smooth performance for freeriding, it's fast and responsive.
The Torque carries the optimum width from the center to the tips, the square tip outline allows for straighter rails that have more surface area to load up against for an insane pop experience, whether you ride with boots or straps.The medium flex and rocker is a combination of the best of both worlds; soft landing and great upwind drive. A precisely tuned quad concave hull combats chop and projects from wave kickers. The stability and predictability of the Torque means it has never been so easy to boost high and progress with even the most advanced tricks – all the features needed for maximum performance, go send it and see!
OZONE HARNESS
THE CONNECT WATER HARNESS IS A NEW TAKE ON KITEBOARDING HARNESS DESIGN – IT IS CLEAN, SIMPLE, LIGHTWEIGHT, AND OFFERS FREEDOM OF MOVEMENT THAT SURPASSES ANYTHING CURRENTLY ON THE MARKET.
We have maintained a clean and functional design, no unnecessary cosmetic items will be found on this harness. It's a very comfortable fitting shape with extra soft foam padding, designed to be worn tight for ideal load transfer to the body. Its sleek lines and carefully sculpted shape mean that riding in board shorts is a rash/rub free experience.
The Connect Water harness is perfect for day-to-day freeride sessions on any board – twin tip, surfboard or foil board. The uniquely designed low profile fit increases body movement range in all directions. In the waves this allows a huge amount of extra freedom during turns, where a normal harness can often get in your way resulting in unwanted body positioning.
Its lightweight construction and the possibility to lay it flat without distorting a pre-determined or fixed shape make it the perfect travel harness. When we say lightweight we mean it – the Medium size weighs only 990grams including the spreader bar!
Many harness designs are only available in 3-4 sizes, this means those sizes are compromised rather than being refined for your body shape. For this reason we have created a range of eight sizes to offer the perfect fit for everyone. The Connect-Water harness is designed to be worn as tight as possible for a snug fit that will not slide around.
FEATURES
Low profile fit
The low profile fit increases movement range in all directions – with this harness you will feel free and flexible in your body movements. It is designed for a tight and close fit – the tighter you wear the harness the fewer tendencies it has to ride up or to shift from side to side.
Quick Release Stainless Steel spreader bar
The custom Stainless Steel spreader bar includes an easy push open release, leash attachment ring, and emergency hook knife.Simple functional design
No unnecessary cosmetic items maintain a clean, lightweight and functional design.Super lightweight construction
The Medium size Connect-Water harness weighs only 990grams! Attention to design, material selection and no unnecessary cosmetic items have allowed us to build this harness super lightweight.Ergonomic shaping
Ergonomic shaped paneling – load is distributed evenly over a larger area.Reinforced spreader bar pad
The spreader bar is bolted onto the spreader pad with internal plastic reinforcement to avoid upward twisting of the spreader bar.Strong internal structure
Plastic layers along the back section with full length webbing support for optimum load distribution and extra strength.Internal foam padding with soft Neoprene outside layer
Super comfortable to wear on bare skin with no rubbing spots/points. The thick internal foam offers a comfortable fit even when the harness is done up tight.Extra strong webbing
Heavy duty webbing straps for a long lifespan. Webbing savers reduce wear on the main straps at the spreader bar connection.

Grab handle
Strong, lightweight grab handle on the back of the harness.

Bungee retainers on buckles
Bungee retainers on the buckles store the webbing straps out of the way.
OZONE BAR

PRODUCT INFO
A CLEAN AND SIMPLE DESIGN, WITH AN EASY-TO-USE TRIM SYSTEM AND FEATURING OUR LATEST INNOVATION – THE CLICK-IN LOOP.
Innovative Click-In Loop
An all-new push-away quick release with an innovative one-step Click-In reload function that is incredibly intuitive. The release handle fits comfortably in the hand, it is quick and easy to activate the release by pushing the handle away. A self-positioning release mechanism locates automatically, ready to be re-loaded by simply 'clicking' in the loop. The Click-In Loop is AFNOR NF S52-503 certified.
'The Click-In Loop is a step in the right direction to making your kiting experience easier, wherever your adventures may take you…' 
Design Inspiration
What's the first thing you do when you get in a car? You click in your seatbelt, hearing that 'click' sound makes you feel secure that you are safely buckled up, and you know instinctively how to release it.The design of our new release system, the Click-In Loop, is inspired by the same principle.
In the same way fastening your seatbelt has become a natural action when getting into a car, riders should activate and reload their release systems before and after every use.Although this important safety check is often overlooked, checking your release before each session will ensure it is functioning properly. We developed the Click-In function to be simple and intuitive, so activating and reloading will become second nature.VIEW ALL CONTROL SYSTEM FEATURES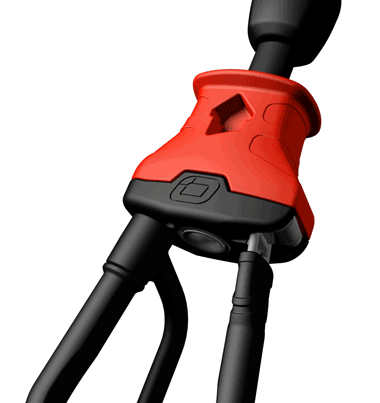 ​IMPORTANT NOTES:
All riders should attach their Kite Leash to the Flag Out System. This is the small eyelet on the Stainless Steel Swivel Ring. When the release is activated, the kite will flag out and fall to the water/ground.

In all situations make sure that all lines are clear of all working release systems and the kite leash is connected in the right way.

Always clean your control system with fresh water after every session, and reload/release the Click-In Loop to check the system is functioning correctly. Store your control system with the Click-In Loop release open. Reload the next time you set up your kite