Ozone Beginner Complete Package for the riders entering the amazing world of kitesurfing. All you need in one go !
Beginner Complete Package with the kite Ozone Catalyst:

KITE OZONE CATALYST V1 2018
The catalyst V1 is design for entry level and intermediate riders – it's a confidence inspiring, fun and easy kite to ride that will make your progression in the sport fast, safe and enjoyable.
With accessible "sheet in and go" power delivery it is easy to get up on the board and ride. An excellent wind range lets you ride comfortably in variable or gusty conditions, refined profiles help you to ride upwind, enabling you to spend more time improving your skills! The Catalyst V1 will bring a smile to your face, the predictable power and lift makes your first jumps a breeze with easy timing and smooth landings.
We took a completely new approach towards this design to create a fun filled kite for new comers to progress to becoming solid intermediate riders. The Catalyst V1 has a unique Leading Edge arc and sweep shape, combined with a simple pulley-less bridle offering you freedom and flexibility on the water.
If you manage to drop your kite in the water the re-launch of the Catalyst V1 is incredibly simple and intuitive due to the unique shape of the leading edge. By turning the bar or using the Re-launch Balls on the leader lines, the kite will easily roll over into the re-launch position ready to take off from the water.
The Catalyst V1 Release System features our proven Front Line Flag Out release, the same release system on our entire water kite range. When the Chickenloop is released the kite will flag out to one front line, immediately stopping all power delivery from the kite.
As with all Ozone products, we pride ourselves with top of the line manufacturing in our own factory using the highest quality materials. The Catalyst V1 is constructed with quality proven Teijin D2 canopy material and Teijin Dacron providing a crisp feel and a strong kite.
BOARD AXIS LIBERTY FREERIDE
With the beginner Complete Package comes The Liberty is designed for beginners to intermediate riders. The Liberty's soft, forgiving nature makes this the perfect board for entry-level kiters and people who require all-round performance.
The Liberty's flex allows you to cruise over chop and unforgiving water with ease. The flatter rocker line requires less power from the kite thus making it easier to get up and plane quickly. This advances the progression of new kiters and allows more advanced kiters to have speed on tap! This board comes equipped with the bright colored (so you can see spot the board easier on the water) AXIS Universal Traction System footpads/straps, and the bright yellow AXIS fins which are the highest quality G10 we use across our complete product line. Get on the new Liberty and explore the freedom of kiteboarding!
OZONE HARNESS
THE CONNECT WATER HARNESS IS A NEW TAKE ON KITEBOARDING HARNESS DESIGN – IT IS CLEAN, SIMPLE, LIGHTWEIGHT, AND OFFERS FREEDOM OF MOVEMENT THAT SURPASSES ANYTHING CURRENTLY ON THE MARKET.
We have maintained a clean and functional design, no unnecessary cosmetic items will be found on this harness. It's a very comfortable fitting shape with extra soft foam padding, designed to be worn tight for ideal load transfer to the body. Its sleek lines and carefully sculpted shape mean that riding in board shorts is a rash/rub free experience.
The Connect Water harness is perfect for day-to-day freeride sessions on any board – twin tip, surfboard or foil board. The uniquely designed low profile fit increases body movement range in all directions. In the waves this allows a huge amount of extra freedom during turns, where a normal harness can often get in your way resulting in unwanted body positioning.
Its lightweight construction and the possibility to lay it flat without distorting a pre-determined or fixed shape make it the perfect travel harness. When we say lightweight we mean it – the Medium size weighs only 990grams including the spreader bar!
Many harness designs are only available in 3-4 sizes, this means those sizes are compromised rather than being refined for your body shape. For this reason we have created a range of eight sizes to offer the perfect fit for everyone. The Connect-Water harness is designed to be worn as tight as possible for a snug fit that will not slide around.
FEATURES
Low profile fit
The low profile fit increases movement range in all directions – with this harness you will feel free and flexible in your body movements. It is designed for a tight and close fit – the tighter you wear the harness the fewer tendencies it has to ride up or to shift from side to side.
Quick Release Stainless Steel spreader bar
The custom Stainless Steel spreader bar includes an easy push open release, leash attachment ring, and emergency hook knife.Simple functional design
No unnecessary cosmetic items maintain a clean, lightweight and functional design.Super lightweight construction
The Medium size Connect-Water harness weighs only 990grams! Attention to design, material selection and no unnecessary cosmetic items have allowed us to build this harness super lightweight.Ergonomic shaping
Ergonomic shaped paneling – load is distributed evenly over a larger area.Reinforced spreader bar pad
The spreader bar is bolted onto the spreader pad with internal plastic reinforcement to avoid upward twisting of the spreader bar.

Strong internal structure
Plastic layers along the back section with full length webbing support for optimum load distribution and extra strength.

Internal foam padding with soft Neoprene outside layer
Super comfortable to wear on bare skin with no rubbing spots/points. The thick internal foam offers a comfortable fit even when the harness is done up tight.

Extra strong webbing
Heavy duty webbing straps for a long lifespan. Webbing savers reduce wear on the main straps at the spreader bar connection.

Grab handle
Strong, lightweight grab handle on the back of the harness.

Bungee retainers on buckles
Bungee retainers on the buckles store the webbing straps out of the way.
OZONE BAR

PRODUCT INFO
A CLEAN AND SIMPLE DESIGN, WITH AN EASY-TO-USE TRIM SYSTEM AND FEATURING OUR LATEST INNOVATION – THE CLICK-IN LOOP.
Innovative Click-In Loop
An all-new push-away quick release with an innovative one-step Click-In reload function that is incredibly intuitive. The release handle fits comfortably in the hand, it is quick and easy to activate the release by pushing the handle away. A self-positioning release mechanism locates automatically, ready to be re-loaded by simply 'clicking' in the loop. The Click-In Loop is AFNOR NF S52-503 certified.
'The Click-In Loop is a step in the right direction to making your kiting experience easier, wherever your adventures may take you…' 
Design Inspiration
What's the first thing you do when you get in a car? You click in your seatbelt, hearing that 'click' sound makes you feel secure that you are safely buckled up, and you know instinctively how to release it.The design of our new release system, the Click-In Loop, is inspired by the same principle.
In the same way fastening your seatbelt has become a natural action when getting into a car, riders should activate and reload their release systems before and after every use.Although this important safety check is often overlooked, checking your release before each session will ensure it is functioning properly. We developed the Click-In function to be simple and intuitive, so activating and reloading will become second nature.VIEW ALL CONTROL SYSTEM FEATURES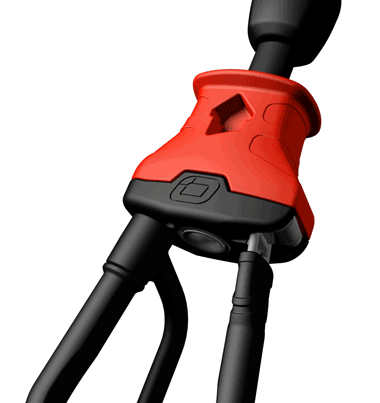 ​IMPORTANT NOTES:
All riders should attach their Kite Leash to the Flag Out System. This is the small eyelet on the Stainless Steel Swivel Ring. When the release is activated, the kite will flag out and fall to the water/ground.

In all situations make sure that all lines are clear of all working release systems and the kite leash is connected in the right way.

Always clean your control system with fresh water after every session, and reload/release the Click-In Loop to check the system is functioning correctly. Store your control system with the Click-In Loop release open. Reload the next time you set up your kite